We celebrated Abby's birthday this past weekend with cake and playtime.
The little girls dressed her up in paper chains: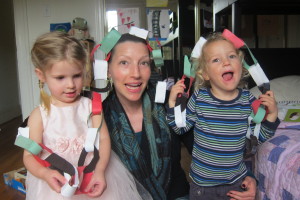 The boys helped by getting out every single toy in the house just in case anyone wanted to play with them: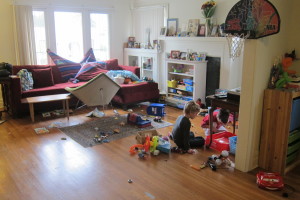 And Papa Jack and Unka Dan braved the wilds of Chuck E Cheese on a rainy Saturday so the boys could play the slots, the girls could nap, and the rest of us could sit on the couch and sip tea. Merlin had to work but Josh fixed him a dinner care package of Chinese beef ribs, tofu and veggies, and various other yumminess.
A few weeks of relative normalcy have been great – especially with the latest round of treatment starting this week. Abby will be having radiation five days a week for seven weeks. Her medical team has also recommended weekly chemotherapy that will boost the radiation's effects. This is of course a total bummer and we are all keeping our fingers crossed that the side effects will not be as bad as they were with the systemic chemo.
Huge thanks and shout-outs to the local families who have been dropping off delicious meals and the out-of-town friends who are sponsoring grocery gift cards and weekly housecleaning. All of you have made this difficult journey so much better with your practical generosity, thoughtful words, and love beaming across time and space!